The Tool Kit:
The How-To of DirectedCreativity
DirectedCreativity is creativity for serious, action-oriented people. The DirectedCreativity ToolKit is a wide-ranging catalogue of practical methods from the field of creative thinking and innovation in business. The map below is your guide. Just point, click and explore.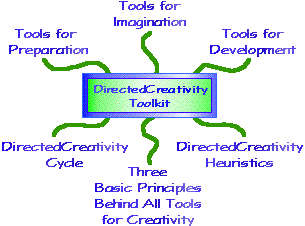 Preparation, Imagination, and Development are three phases of the DirectedCreativity Cycle. If you are unfamiliar with the Cycle, start your exploration on that link.
To deepen your understanding and begin development of your own tools for creative thinking, be sure to explore the three basic principles behind all creativitity tools.
Looking for a specific tool, but don't see it listed here? Send your request via e-mail. We will track it down for you and e-mail you back an explanation and directions for use.

© 1997 Paul E. Plsek & Associates, Inc.
All rights reserved.
---
|| Home Page || What's Directed Creativity? || Who's Paul Plsek? || Services ||
|| Links to Other Sites || The Creativity Bookstore ||
|| Creativity, Innovation, and Quality by Paul Plsek ||
DirectedCreativity Theory, Methods, and Tools...
|| DirectedCreativity Cycle ||
|| DirectedCreativity Heuristics ||
|| DirectedCreativity Toolkit ||